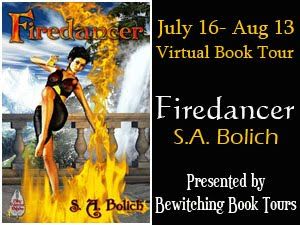 Title: Firedancer (Masters of the Elements #1)
Author: S. A. Bolich
Pub. Date: Sept. 1, 2011
Find "Firedancer":
Amazon / B&N / Smashwords / The Book Depository




Jetta ak'Kal, the most talented Firedancer of her generation, once believed the Dance could always check the Ancient, the strange, living fire at the heart of the world. She was wrong. For all her talent, the Ancient got past her and killed her lifemate. Now, a year later, her clan demands that she resume her duties to protect another threatened village, but Jetta no longer has the heart or the confidence. Still, to Annam she must go, in company with the most erratic journeyman in all the clans. Poor Settak has only stubbornness going for him—and a long-cherished love for Jetta that she cannot return.

They arrive in Annam to discover the Ancient crawling up through abandoned mine tunnels. Thrown straight into battle with an enemy that still gives her nightmares, Jetta's private little war is complicated by the presence of Windriders, masters of air, the Ancient's most potent fuel. Arrogant and cocksure of their own ability to protect Annam, most of them side with a village faction that thinks Jetta ak'Kal is a greater liability than an asset. Only Sheshan ak'Kal seems reasonable, but his undisguised interest in Jetta sets Settak bristling.

Beset on all sides, Jetta must somehow bring Windriders and Firedancers in an unprecedented alliance to stop the Ancient, for if she fails, Annam Vale and its big, laughing Stone Delvers will be only the first victim of the firestorm that will surely follow.